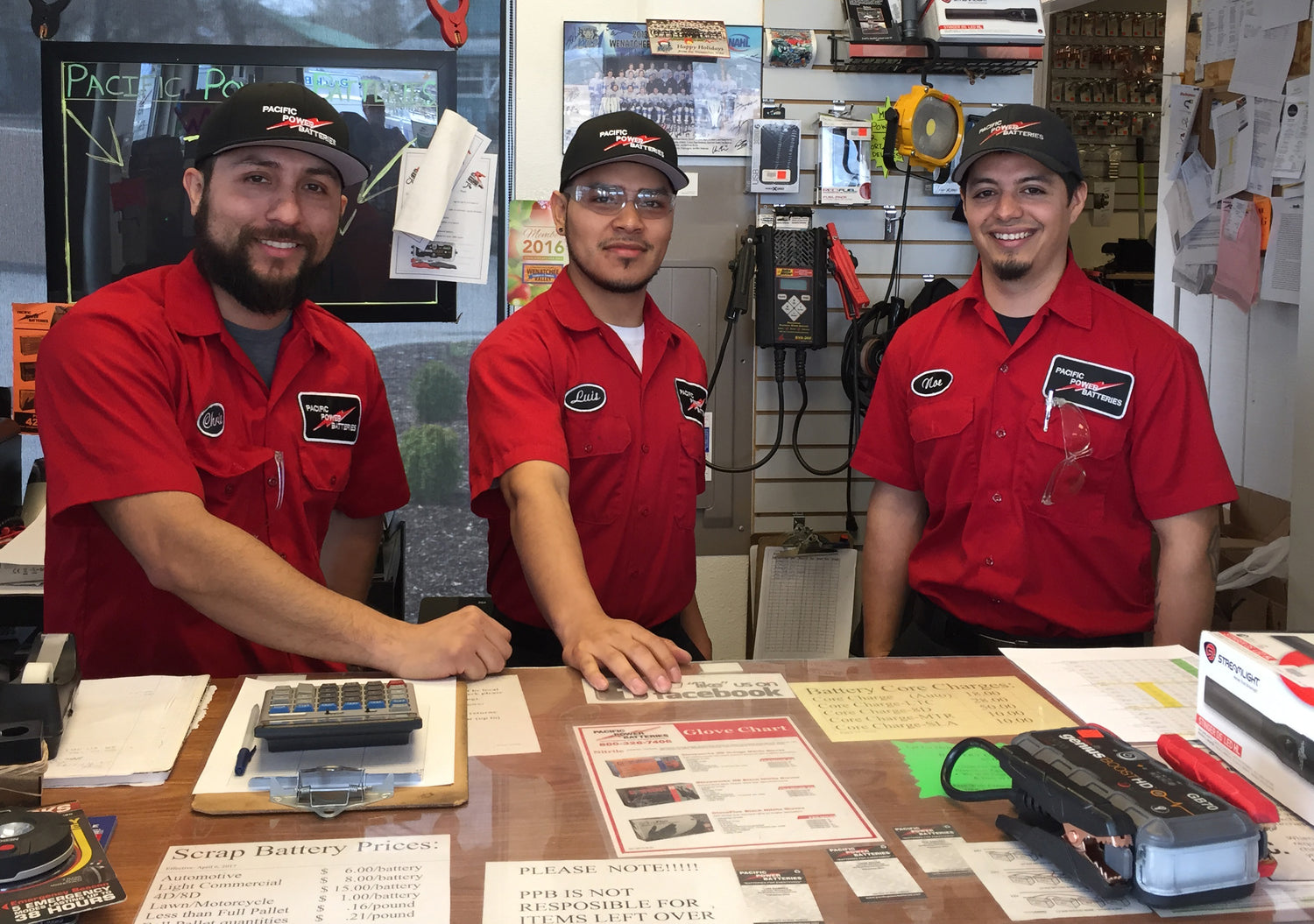 Join Our Family!
Are you looking to join a company that feels like a family?
Are you a motivated person who is excited to learn new skills every day at work?
Become a Battery Specialist!
Pre-Apply Now!
No previous experience with batteries is required. We will train and teach you all the skills you need to know to excel and grow in our company!


When you work at Pacific Power Batteries, you will learn a variety of new skills such as forklift training, warehouse work, retail and sales, driving sales routes and more!  
You will make great relationships with our loyal customers and experience our friendly and up-beat working environment.


"Knowing that this company takes care of their employees is a very big part of the reason I love to work here."

-Noe, Manager at Pacific Power Batteries Wenatchee 2011+


Essential Job Functions:
• Sell batteries of all types and battery related products.
• Offer customer support in person or over the phone, using the internet.
• Install batteries in trucks, cars, heavy equipment, wheelchairs, and more.
• Shipping and receiving at your store.
• Stocking and merchandising products.
• Drive company van or truck locally to other stores or customer locations.


Family owned, Pacific Power Batteries was founded in 1985. We have 6 company-owned stores with 2 Franchises. All of the stores sell batteries and related products for almost every application from a large variety of manufacturers.

We also provide great customer service in the form of product knowledge, technical skills and customer care.
 


Starting Wage: $3,500/month salary is for 5 days per week, 8.5 hours/day for a total of 42.5 hours. The $3,500/month salary includes the overtime.

$3,500 is the starting wage. $3,805 is the current top wage for this position.

Initially, you will receive formal and on-floor training in Everett for about two weeks Monday-Friday at an hourly rate of $20.00/hour. Once you've completed the initial training, you'll be assigned to your store(s) of mutual agreement and will go on salary.

At your assigned store, generally within 30 days, you'll be included in that store's MONTHLY BONUS PROGRAM (average Value is $143/month on top of your base pay).

After 90-120 days, you'll receive:
• Regence Blue Shield Medical Insurance (includes $15K Life Insurance policy) where Pacific Power Batteries PAYS the premium for you only with NO deduction from your wage. Value: $327.68 if younger than 35, $543.43 if 35-49 y.o. and $920.97 if 50-64 y.o. and $2161.44 if 65 or older.

• Health Savings Account HSA Value: $50 / Month • Unum Long Term Disability Insurance Value: $12- $18/month

• Aflac Insurance is available to you as a deduction (if you so choose) for any of their benefits that may appeal to you and your family.

• Dental and Vision insurance premium paid by Pacific Power Batteries for you only. Value: $39.82/month for dental and $5.82/month for vision insurance.

• Vacation Benefit:
6 major holidays without salary interruption during employment with us. Additionally, 5 paid days off after 1 year, 10 paid days off after 2nd year with us.

• Paid sick leave is accumulated at 1 hour for every 40 hours worked.

• After 1 year, 1/3 vesting of our Employee Profit Sharing Program. Vesting continues to 2 shares after 2nd year, with 3 shares at end of 3 years. Value: $0- 1000/share. 2020 value was $220/share.

• Employee Discount Buying Program


• Gym Reimbursement Program up to $25/month.


You will need to:
• Be available for either Saturdays or Sundays.
• Have a valid WA Driver's License and good driving record.
• Be a non-smoker, non-vaporer, and no weed or other federally controlled substances.


Areas with available positions:
• Everett
• Kirkland

Employment Type:
• Full-time