Battery Recycling
Recycling lead-acid batteries is a big part of our business. In 2021, we sent just over 1.6 million pounds of scrap 821+ tons to EPA licensed U.S. smelters. Since the beginning of our business in 1985, we have chosen NOT to sell our scrap batteries overseas because we do not know how those smelters handle the process. We have toured our receiving smelters, are confident of their certifications and are proud to issue Certificate of Proper Recycling for those individuals or businesses that request it. (Insert one photo of scrap batteries on a pallet)
Recycling other chemistry batteries such as Ni-Cad (Nickel-Cadmium), Ni-MH (Nickel-Metal Hydride), Lithium Ion types, Alkaline, and Carbon-Zinc. All of these batteries are collected at the store level, sorted into their various chemistries and shipped to our processor, Battery Solutions, Inc. (visit www.batterysolutions.com for more information)
Electronics Recycling
We also accept Electronic Waste Products for recycling with the E-Cycle WA program. See below for specific guidelines.
 *Due to Winter Conditions Nov. 1st - Feb. 28th Wenatchee is not receiving E-Waste
What can I recycle for free?
Televisions

Computers

Computer Monitors

Portable or Laptop Computers

Tablets

E-Readers (also called E-Book readers)

Portable DVD Player

*Computer peripherals such as KEYBOARDS, MICE, and PRINTERS are NOT accepted at our locations.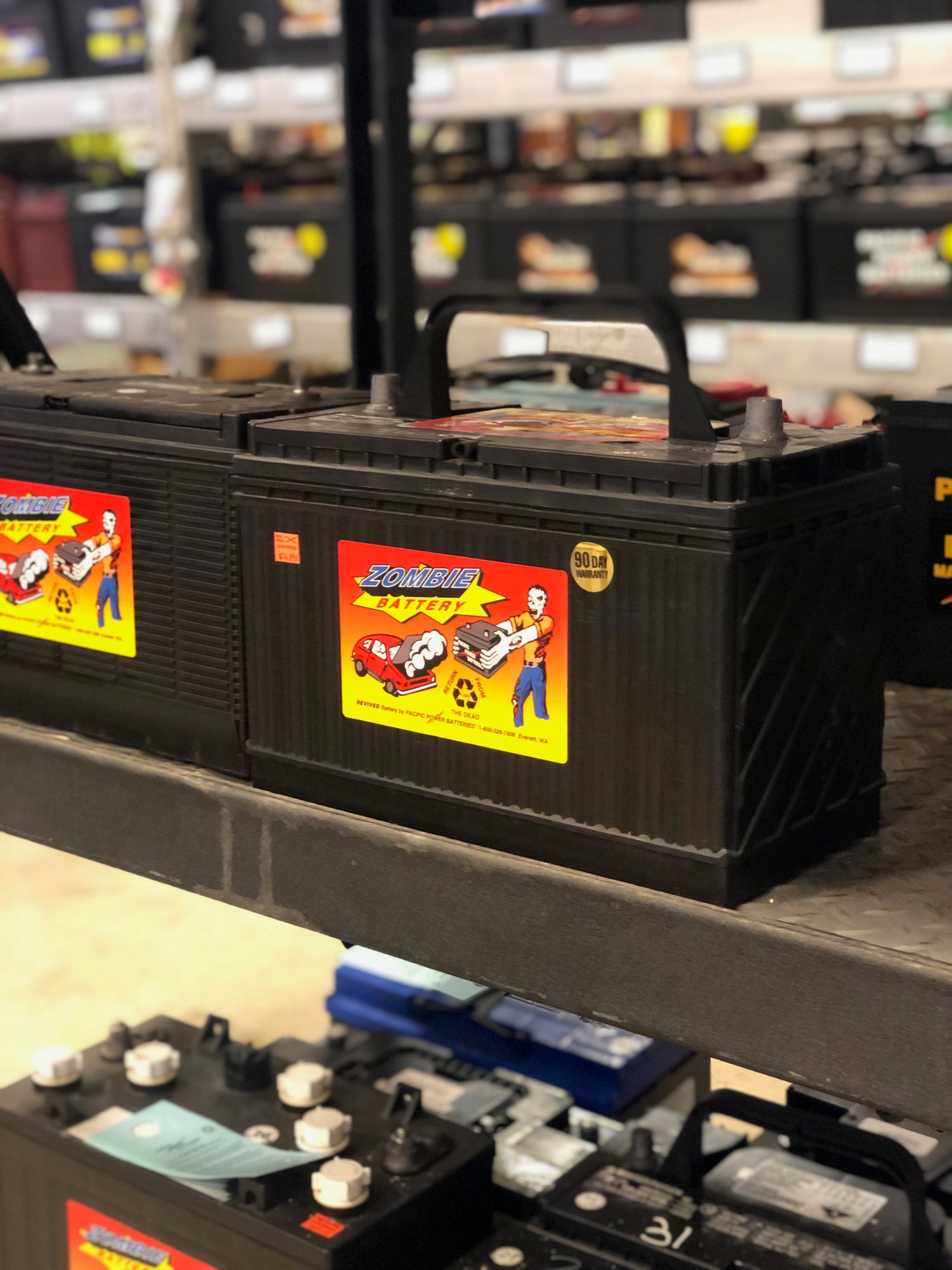 Recycling: Part of Our Business
Recycling, repurposing, and re-directing as a business is a big part of our business. Like all businesses, we try to do our part to be thoughtful about what we buy, use, and sell internally.
Here are some examples of how we continue to improve: Sorting and recycling all of our stretch wrap material, Styrofoam, cardboard, office paper, plastic bottles, and aluminum cans within our company.
Promoting and selling our Zombie batteries is one very effective way of repurposing: we identify, recharge, test, repair, rebalance the electrolyte, clean, merchandise and sell those batteries that we find (or receive as a trade-in), for 50% of the price of a new battery.
These ''Zombie'' batteries work perfectly for that application where an ''undead'' battery would fill the need.
Which stores can I recycle with?